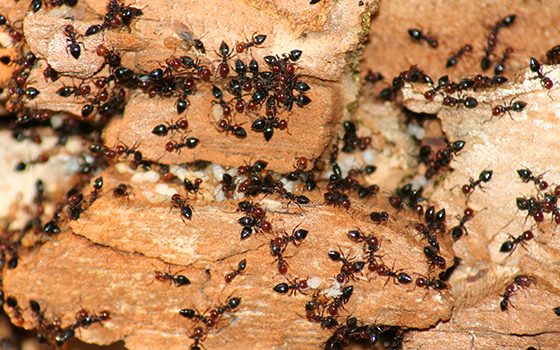 Why Bother With Ant Removal?
While normal house ants aren't known to carry diseases, they are notorious for searching out their next meal and swarming around food sources in homes and businesses. This is not only a nuisance, but it can also spoil food sources.
However, the real trouble is fire ants. Fire ants are known to sting humans in large numbers, especially if you're unfortunate enough to find yourself right next to one of their mounds.
Trusted Pest Control in McDonough
At Providence Pest Control, we take pride in a job well done, so you can count on our pest control team to arrive promptly and to work hard every single time you call us for our services. Through our more than 20 years of experience in the pest control industry, we have developed extremely effective processes and techniques that are sure to eradicate your home's ant problem.
We will identify the specific type of ant attacking your home and prescribe a treatment plan to eliminate the infestation and keep them from coming back.
Our goal is to provide top-quality ant control services with no-hassle, all at a reasonable rate. To this end, we guarantee your pest control rates will never increase as long as you are working with us.
On top of that, we are also firm believers in earning your business each and every single time. This means we'll never force you into a contract, and you're free to leave at any time.
However, you'll see such a difference in the way we treat our customers and, most importantly, our thorough pest removal results, we're confident you'll come back time and time again.
Choose Providence Pest Control For Your Ant Problems
Call us today if you need help with your ant infestation in McDonough and surrounding areas. Our team would be more than happy to get it taken care of for you. We offer residential and commercial pest control plans for your convenience.